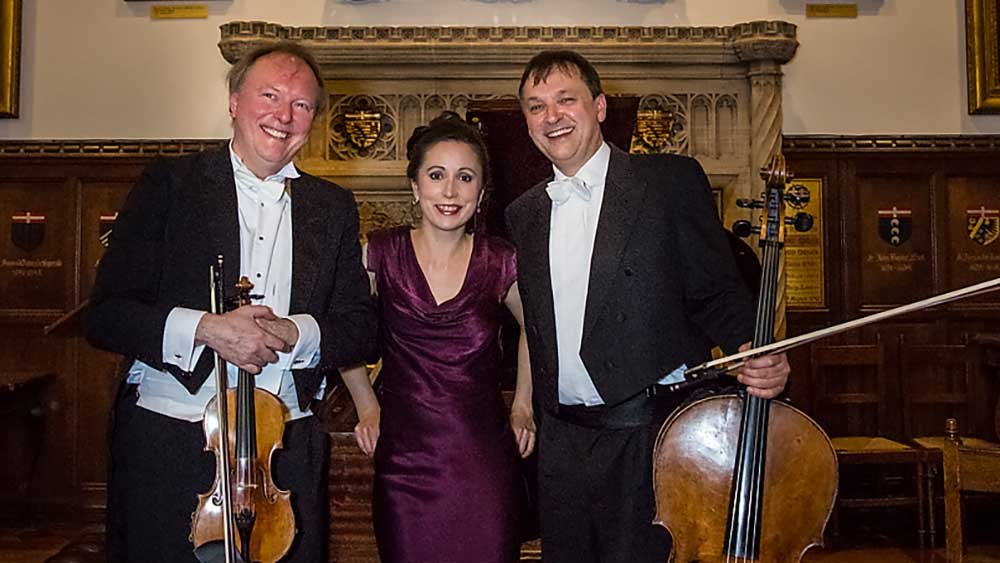 A celebration of Chamber Music, the local climate, our community and Vaughan Williams in his 150th year.
Stradivarius Piano Trio is an internationally recognised virtuoso ensemble which has performed extensively across the globe taking their engaging warmth and enthusiasm to share their music to Asia including holding a residency in Macau University.
Stradivarius Piano Trio celebrates nature, diversity and our communities which we bring together at concerts in the county's great estates and churches. We have for over fifteen years celebrated nature at Knepp Castle and in 2022 this grows to reflect the newly established Wilding Corridor from Chichester to Knepp Castle.
In this evening's concert, we bring together two of the county's great composers: Ralph Vaughan Williams, who wrote The Lark Ascending in Horsham, and John Ireland who rests at Shipley Church. Both composers are reflected by a new work commissioned by Shipley Arts Festival.
Roderick Williams, the world-renowned baritone, is also an increasingly sought after composer. Knepp Piano Trio was commissioned by Shipley Arts Festival in 2019. This beautiful work takes forwards the long-established Wilding Concert. Ralph Vaughan Williams regularly visited Horsham to see his friend Lucy Broadwood in the famous piano-making family. He would write down the folk songs collected by Henry Burstow.
On one pilgrimage from Rudgewick to Nuthurst RVW heard the folk medley for the Turtle Doves. In 1924 he set this to music:
Roderick brilliantly takes this folk melody and sets it at the centre of the Wilding in Knepp Castle and to be performed as Knepp Piano Trio by Stradivarius Piano Trio who have recently recorded this movement at Abbey Road in advance of 2023 release on the UK's premiere classical Signum Label.
Ticket Price £18
Programme
| | |
| --- | --- |
| J.S.Bach | Sheep may safely graze |
| Roderick Williams OBE | Knepp Piano Trio ( 2019 commission ) |
| Henry VIII | Variations on Greensleeves |
| John Ireland | Fantasy Trio |
| Ralph Vaughan Williams | The Lark Ascending |
| Clara Schumann | Piano trio |
| Robert Schumann | Phantasiastucke |