Music performance to inspire and connect in beautiful locations across Sussex
The Shipley Arts Festival is well established as one of the leading cultural events in the South East of England. After 20 years we have grown from a Saturday night concert in Shipley Church to the leading Classical Music Festival in Sussex.
Shipley Arts Festival
Since it was founded by Andrew Bernardi in 2000, the annual Shipley Arts Festival has brought world class music to communities in and around Shipley, Sussex, through a curated programme of concerts and events which celebrate the connection between music and nature, wellbeing and heritage.
As well as showcasing our professional ensembles, we champion young talent, inviting musicians from our String Academy to perform alongside our professional musicians as part of the festival. We also commission and premiere new works by some of today's leading composers.
Taking place from April-November, the festival is established as one of the leading cultural events in Sussex and each year takes place in different settings within the local area.  Performances take place in a range of different locations from local community venues to stately homes, heritage buildings, schools and churches.
We are grateful to our Shipley Festival Friends, and Sponsors and Patrons who have supported us since the beginning and without whom the success of the festival and community spirit would not have been possible.
Email Andrew to discuss sponsorhip opportunities at tracey@bernardimusicgroup.com. To become a friend of Shipley Arts Festival, follow the local giving link below.
Take a look at some of our brochures from previous years of the Shipley Arts Festival
Other performances and venues
We perform at many other venues across the UK and abroad
Leonardslee Concert Series
The magnificent Italianate mansion, Leonardslee House in Sussex, surrounded by Grade 1 listed gardens and parkland is the setting for our annual concert series.
When Leonardslee opened their doors in 2019 following a major refurbishment of the house and gardens, Bernardi Music Group was the chosen ensemble invited to lead a new world class concert series at the venue.
We hope to return in Autumn 2020 once government guidelines allow us to do so and we will be streaming live concerts to our friends in the UK and overseas.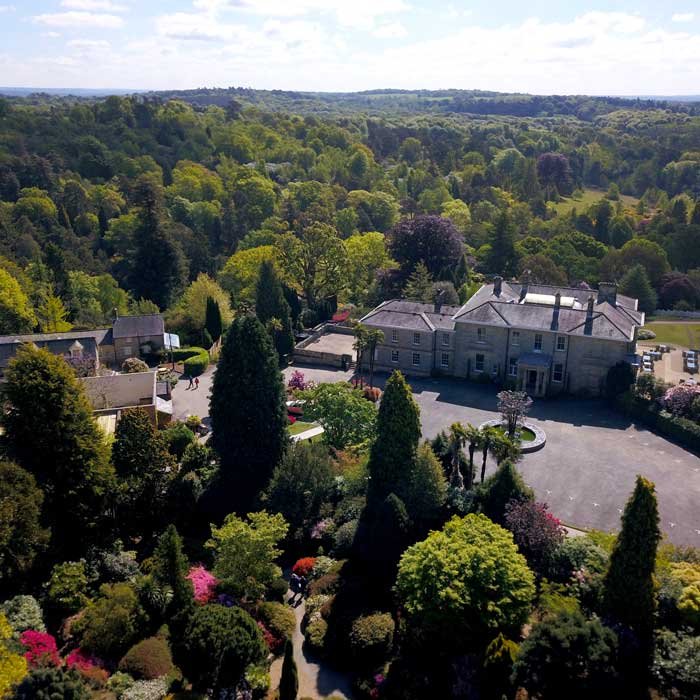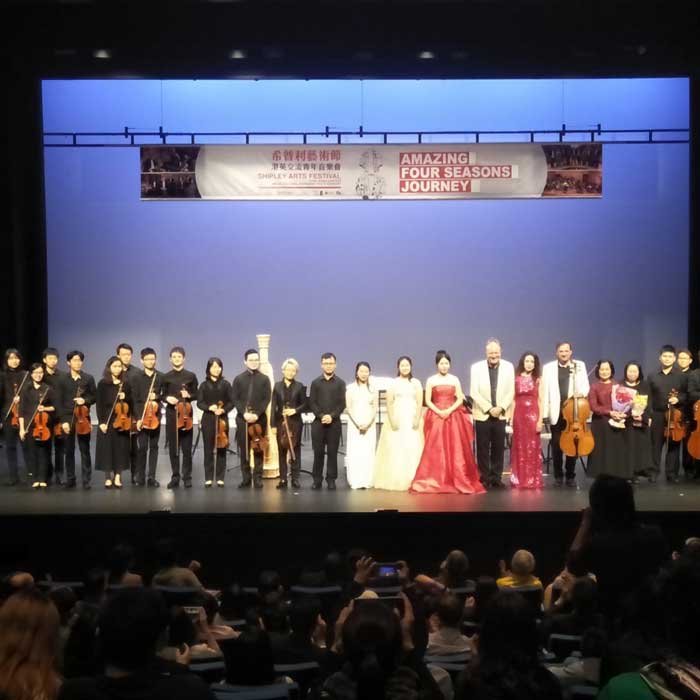 Tours and other festivals
Bernardi Music Group has toured in the UK and overseas including performing at Edinburgh Festival, in Shenzhen and embarking on a national tour of Ireland.
We regularly perform at ambassadorial events including at the Foreign Office, The Design Centre and Pall Mall in London and through our Foreign Office collaborations, tours in 2018 and 2019 were made to Hong Kong and Macau as part of an international trade project. Establishing a presence through these tours led to being appointed the Resident British Orchestra at Macau University and future overseas tours are planned once COVID-19 restrictions are lifted.
To discuss our availability for your festival or event please contact tracey@bernardimusicgroup.com
New Commissions
Central to our work is the commissioning of new works from today's leading composers which reflect the communities we serve.
Recent commissions include "White Storks" for string octet by Helen Ottaway inspired by the birth of wild storks at Knepp Castle Estate and a new violin concerto written by Paul Lewis.
2005 Three movements reorchestrated from the 'Brotherhood Suite' by Gordon Giltrap
2007 'Great Hills' by Cecilia McDowall (commissioned by Eve Barret and published by Oxford University Press)
2007 'To Notice Such Things' by Jon Lord (commissioned by Eve Barret and published by Schott Music)
2008 'Descending Blue' by Cecilia McDowall (commissioned by Colin and Lucy West and published Gemini Press)
2013 'Stilled Voices by James Whitbourn (commissioned by John Snelling and published Chester Music)
2015 'Ada' by James Whitbourn and premiered by Andrew Bernardi and Anna Lapwood and friends in celebration of 200 years of Ada Lovelace (commissioned by the Earl and Countess of Lytton and published by Chester Music)
2016 'Goodwood Variations' by Roderick Williams OBE (commissioned by Maria Marchant and Andrew Bernardi)
2018 'Shipley Psalms' by Malcolm Singer (commissioned by Revd Rupert Toovey and John Snelling)
2018 'Knepp Piano Trio' by Roderick Williams OBE
2019 'Dragons' by Malcolm Singer reorchestrated with Arts Council England support
2020 'White Storks by Helen Ottaway ( commissioned by Shipley Arts Festival Life Friend Jamie Martin and Alison Beckett )
2020 'A Concerto for violin: 1696 Stradivarius / Sussex Shipley Idyll / Chinese Adventure' by Paul Lewis (commissioned by Shipley Arts Festival and published by Good Music)