A leader in music education
We inspire young people from all backgrounds to enjoy the many benefits of music-making as we work with individuals, and schools, to encourage creative thinking, build confidence and create career pathways.
String Academy
Our outstanding String Academy programme has impacted on the lives on many young musicians since its formation in 2000. Serving as a pathway for former pupils to gain scholarships to the Royal College of Music, Trinity Laban, Charterhouse, and the Yehudi Menuhin School, many of our former members are now in leading roles within the music industry.
Coached by professional musicians, the students benefit from specialised tuition from some of the UK's most highly regarded string players, who are carefully matched to the needs of each student. The String Academy meets three times per term, usually in Sussex, and at our annual Summer School.
The String Academy is open to young people aged 10-20 years old, with abilities ranging from Grade 3 to diploma level. Encouraging opportunities from all backgrounds, we also have scholarship opportunities available.
We believe that opportunities for "side by side" performances with some of the UK's leading professional musicians are important for our pupils to progress. These include performing in the Shipley Arts Festival, at venues in London and Edinburgh and playing for corporate and charity occasions, parents and friends. Confidence increases as the students rise to these occasions, often meeting with famous musicians and industry leaders at the same time.
Many of our String Academy students also enjoy partaking in our Summer School held at Yehudi Menuhin School, working and performing alongside students in our Trinity Sannyi Music Academy Exchange programme.
To find out more about String Academy, please contact Andrew Bernardi andrew@bernardimusicgroup.com who will be happy to discuss in further detail with you.
Trinity Sannyi Summer School
Our Trinity Sannyi Summer School takes place at the world renowned Yehudi Menuhin School in Cobham, and invites young musicians from Asia to learn, play and perform with their peers from the UK.
Receiving tuition from world-leading musicians and tutors; and living and studying within a safe, creative, healthy and stimulating environment, this is a unique music and cultural exchange programme.
Students have the opportunity to explore and experience the British musical scene and the programme is for violin, viola, cello, double bass and piano players. Applications are welcomed from students that range from Grade 4 through to diploma level, and are aged between 9 to 20 years old.
Details of the next Summer School are provided below.
To find out more about the Trinity Sannyi Summer School, please contact Andrew Bernardi andrew@bernardimusicgroup.com who will be happy to discuss in further detail with you.
Summer School 2023
Our 2023 Summer School programme and dates will be announced shortly. Please fill in the form below to express your interest.
Use this form to sign up to our upcoming Summer School
Required*
String Academy at Sullington Barn, 2021
String Academy at Sullington Barn, 2021
Schools
We regularly visit schools across Sussex and beyond, to encourage a lifelong love and appreciation for music. Engaging with young people through workshops, masterclasses and concerts in order to break down the barriers between audiences and the concert platform; our work includes the 2019 Arts Council England funded Dragons Project.
Working alongside professional musicians, members of our String Academy and pupils from the Yehudi Menuhin School, our Dragons Project enabled us to invite over 300 children, from seven local schools in Sussex, to workshop and perform "Dragons" by Malcolm Singer.
And, another of our many memorable occasions was when we invited children from a local Sussex school to perform at charity event and concert with actor Julie Walters and author Julia Donaldson.
We can tailor our workshops and events to the needs and ages of all pupils; our main objective being to encourage pupils to listen, imagine, ask questions and to share their ideas about how music makes them feel.
To discuss how we could work with your school to enhance lives through music and bring benefits to pupils that inspire creativity, please contact Andrew Bernardi andrew@bernardimusicgroup.com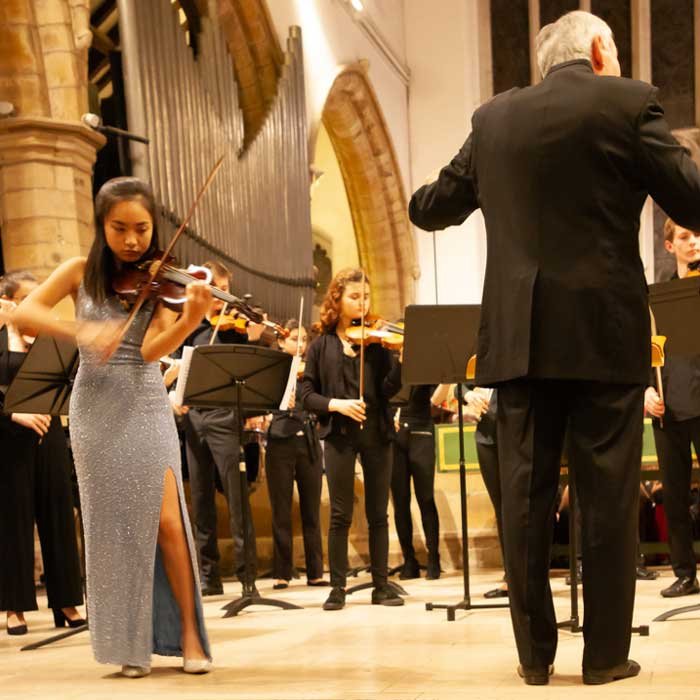 Alumni
Our education programmes provide unique pathways for young musicians and we are delighted that many past members of our String Academy have gone on to enjoy great successes including:
Will Duerden who was a finalist in BBC Young Musician 2018.
Claire Sainsbury who became manager of the Royal Opera House.
Fabio Sarlo who became manager of the London Philharmonic Orchestra.
Ben Jenkins who became manager of the Bournemouth Symphony Orchestra.
Other pupils have gained professorships at music colleges including Dan James and Victoria Greenwood both on staff at Junior Trinity Laban.
Please keep in touch and share your career moves with us to inspire others by contacting us at andrew@bernardimusicgroup.com