Music and Business working together
We offer a range of innovative opportunities for local and international businesses to be part of our story through partnerships, corporate events and investment in our Amici Bernardi Stradivarius violin.
Corporate and government partnerships
We are included in the British Government programme of international cultural exchanges to promote the "Great" in Great Britain. Participating in consulate trade missions and events has taken our performance overseas and we have attended events in London at the Foreign Office bringing together industry and technology leaders.
We are also working closely with the Institute of Directors to promote the mutual benefits music and business sector collaboration.
Internationally, we are partnered with Yuyuan art Investment Group, China's leading design and art investment firm. A friendship between two cultures, our partnership brings together our music with their innovative design to create a new international exchange of ideas, arts and business in a consular supported relationship and bridge of exchange between East and West.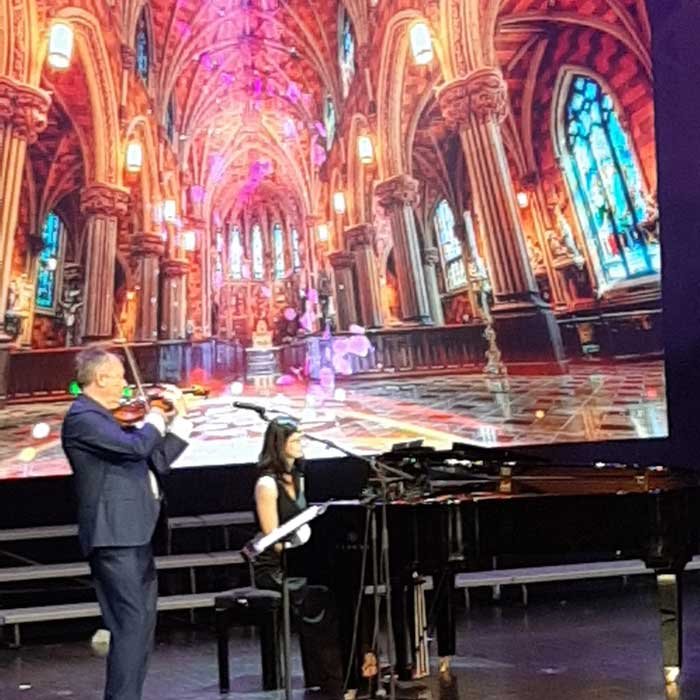 Corporate supporters
We have many mutually supportive business relationships and can work together with organisations on one off projects or on an ongoing basis.
Some of our recent corporate supporters include:
Leonardslee Gardens, West Sussex County Times, Christ's Hospital, West Sussex County Council, Knepp Castle Estate, Windlesham House School, Great Ballard School, The Yehudi Menuhin School, Sussex Life, Opera Holloway, Horsham District Council, Royal Holloway University of London, The Capitol Horsham. Trinity Sannyi Music Academy, Sussex Arts Academy.
We are also grateful for the support we have received from Arts Council England.
Email Andrew to discuss sponsorhip opportunities at andrew@bernardimusicgroup.com
Invest in our Amici Bernardi Stradivarius
At the centre of everything we do is our Amici Bernardi Stradivarius violin – an emblem of our musical excellence.
Previously known as the 1696 Stradivarius, it was made by Antonio Stradivari in 1696 in Cremona, Italy. It has now been renamed the Amici Bernardi to reflect the friendships that Andrew and the group have formed over the years.
To be part of the violin's story and to discuss investment opportunities please contact andrew@bernardimusicgroup.com
Book the Bernardi Music Group
For product launches, premieres and prestigious events you can engage Bernardi Music Group to provide the perfect music for your occasion.
Our musicians perform to a standard equal to that you would find at Wigmore Hall, or the BBC Proms; bringing quality, excellence and dedication wherever they perform.
Performances may include soloist Andrew Bernardi performing on his Stradivarius violin, the Stradivarius Piano Trio, the professional Bernardi Music Group Orchestra and Ensembles. Details of these may be found here on our website under 'our musicians.' Please get in contact with us to discuss your individual requirements, as each event and engagement is personally tailored.
Our young musicians in the String Academy Orchestra often perform side by side with our professional musicians and may also be engaged, further promoting our strong belief in the support and investment in their futures.
If you are interested in booking the Bernardi Music Group email andrew@bernardimusicgroup.com or use the form below.